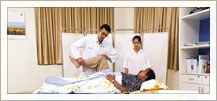 MIOT Hospitals is the pioneer in Joint Replacement Surgery in India. In 35 years MIOT has performed more than 37,000 successful Hip Replacements & Knee Replacement Surgeries and Revision Surgeries with excellent outcomes. MIOT is the first hospital in Asia Pacific Region and second hospital in the world to have Computer Integrated Navigation System for Joint Replacement Surgery.
MIOT is also a leading practitioner of Revision Surgery for Joint Replacement in India. This is a specialization that requires a high degree of planning, customized components and surgical skills. Patients from all over India and neighbouring countries, who had failure of total knee or hip replacements done elsewhere due to implant failure or polyethlene wear and loosening, come to MIOT hospitals for special revision surgeries.
CLINICAL TEAM
The Orthopaedic team is headed by Prof. Dr. P.V.A. Mohandas and Dr. Prithvi Mohandas.

Prof. Dr. P.V.A. Mohandas
Padma Shri Awardee
M.B.B.S., M.S.Orth., M.Ch.Orth (Liverpool, England), D.Orth., D.Sc(Hon)
FOUNDER & MENTOR - MIOT INTERNATIONAL
Chief Surgeon - Department of Orthopaedic Surgery
Prof. Dr. P. V. A. Mohandas is the Founder and Mentor of MIOT International, and the Chief Surgeon of the department of Orthopaedic Surgery.

Prof. Dr. P. V. A. Mohandas completed his education at the Madras Medical College, where he later lectured in his chosen speciality. He then went abroad where he qualified further in Orthopaedics and worked in top institutions in Europe. He started MIOT Hospitals after he returned to India, initially as a hospital that focussed only on Orthopaedics and Trauma.

Prof. Dr. P. V. A. Mohandas has a long list of achievement in the field to his credit. Most notably, he was the first to perform a total hip replacement in this part of the country, introduced internal fixation of fracture for treatment of compound fractures in India, and pioneered total knee replacement in the country. He is also credited with having introduced modern methods of spine surgery and interventions.

He is one of the founders of the Indo-German Orthopaedic Foundation (IGOF), which promotes the collaboration between orthopaedic and general surgeons of both countries in the speciality.

He is a member of several professional medical bodies, and holds prestigious positions in them. He has also published several papers on various subjects pertaining to his chosen speciality.

Prof. Dr. P. V. A. Mohandas has received wide recognition for his contributions to healthcare in India, especially in his chosen speciality. He was awarded the Padmashree for pioneering Joint Replacement in India in 1992. Honorary degrees have also been conferred on him from the MGR Medical University, Chennai and the most recently, the University of Kalyanai. He was awarded an honorary membership to the German Association of Joint Replacement Surgeons, at their annual congress in Heidelberg, Germany, and has the distinction of being the first ever surgeon to receive this honour.


Dr. Prithvi Mohandas
Managing Director, MIOT International
Director of Hip Arthroplasty - Department of Orthopaedics
Dr. Prithvi Mohandas is the Managing Director of MIOT International and the Director of Hip Arthroplasty at Department of Orthopaedics.

Like his father and grandfather before him, Dr. Prithvi Mohandas completed his degree in Medicine at the Madras Medical College. His degree in hand, he then went to the UK to pursue higher education.

First he completed his training in General Surgery at Manchester. He then completed a four year stint at the Whittington Hospital, London, as part of his Orthopaedics Registrar training. It was during this period that his keen interest in the mechanics of hip reconstruction and hip re-do surgery developed. He lectured at the British Orthopaedic Society, The Royal Society of Medicine and the Institute of Mechanical Engineers. He then went on to specialise in surgery of the hip at the Royal National Orthopaedic hospital in Stanmore. He also collaborated with the Hospital for Special Surgery, New York in determining the variables that affect hip implant design, the effect of load transfer in the femoral head and minimally invasive surgery.

When he returned to India in 2007, Dr. Prithvi Mohandas was appointed Director of Hip Arthroplasty at the MIOT Hospitals, Chennai. The following year, he added another title and responsibility to his name - Secretary of the Indo German Orthopaedic Foundation. In 2010, he was appointed Joint Managing Director of the MIOT Hospitals, Chennai.

Apart from being an accomplished surgeon, Dr. Prithvi Mohandas has lectured extensively in his chosen field, as well as taken it upon himself to further India's interests in healthcare internationally through a host of initiatives.

In 2009, Dr. Prithvi travelled to Seoul, Beijing, Bangkok, Colombo, Manchester and Rochester, Minnesota, where he lectured on the 'Atypical scenario in Indian Hip Surgery'.

In the spring of 2011, he delivered the Keynote address on Indian Healthcare at the House of Lords, after which he started the Indo British Health initiative (IBHI) that same year. Since its inception, IBHI has promoted research and collaboration between the UK and India in several specialities. In 2012, IBHI awarded grants to young Indian innovators in the field of Gastrointestinal and Liver Disease. He organized the Diabetes Summit in Jan 2013 and followed it up with the biggest ever Oncology Summit in India, which was attended by 20 UK and 60 top Indian Oncologist, as well as leading players from the healthcare sector, on 6th and 7th September 2013. Both events took place at Chennai.

Presently, Dr. Prithvi Mohandas divides his time between training young Orthopaedic Surgeons in Hip Surgery and his administrative duties as Managing Director of MIOT International, which is today a 1000 bed hospital offering care across 46 specialities.

Dr. Barry D' Rosario
Director of Department of Total Knee Replacement and Computer Navigation - MIOT Hospitals
Dr. Barry D' Rosario, a well-experienced surgeon, has performed over 1200 Computer Navigated Total Knee Replacement surgeries. Recently, he was invited to become the Faculty of the German Association of Joint Replacement Surgeons.