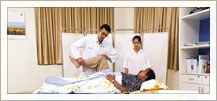 MIOT Hospitals is the pioneer in Joint Replacement Surgery in India. In 35 years MIOT has performed more than 37,000 successful Hip Replacements & Knee Replacement Surgeries and Revision Surgeries with excellent outcomes. MIOT is the first hospital in Asia Pacific Region and second hospital in the world to have Computer Integrated Navigation System for Joint Replacement Surgery.
MIOT is also a leading practitioner of Revision Surgery for Joint Replacement in India. This is a specialization that requires a high degree of planning, customized components and surgical skills. Patients from all over India and neighbouring countries, who had failure of total knee or hip replacements done elsewhere due to implant failure or polyethlene wear and loosening, come to MIOT hospitals for special revision surgeries.
CLINICAL TEAM
The Orthopaedic team is headed by Prof. Dr. P.V.A. Mohandas and Dr. Prithvi Mohandas.

Prof. Dr. P.V.A. Mohandas
M.B.B.S., M.S.Orth., M.Ch.Orth (Liverpool, England), D.Orth., D.Sc(Hon)
Founder & Managing Director – MIOT Hospitals
Chief Surgeon - Department of Orthopaedic Surgery
Prof. Dr. P.V.A. Mohandas, the Founder of MIOT Hospitals, a name that needs no introduction in the field of Medicine and Surgery in India, is considered as the "Father of Modern Orthopaedic Surgery in India". He brought into India the new AO concept of Fracture fixation and Joint Replacement surgery. His tenure as Professor of Orthopaedics at Kilpauk Medical College and Government Royapettah Hospital earned him the fond appreciation as 'Teacher of Teachers' and 'Professor of Professors'.
Prof. Dr. P.V.A. Mohandas was conferred the 'Padmashri' award in 1992 by the Govt. of India. The MGR Medical University, Chennai awarded him the title of 'Doctor of Science'. He also received a German Fellowship in 1994 from the German Society of Fracture Management, a unique and singular honour.
In 2005, he was conferred the Honorary Membership of the German Association of Joint Replacement Surgeon for pioneering in Joint replacement surgeries. He was the first ever surgeon in the world to receive this award.
Backed by 35 years of experience in Joint Replacement surgery and 45 years of professionalism in the field of Orthopaedic Medicare in India and Europe, Prof. Dr. P.V.A. Mohandas has ceaselessly endeavored to make MIOT the only truly Global Hospital with world class standard in India in the field of Joint Replacement surgery, Orthopaedics and Trauma Medicare.
Dr. Prithvi Mohandas
Joint Managing Director and Director of Hip Arthroplasty - MIOT Hospitals
The Department is headed by Dr. Prithvi Mohandas, who spent several years specializing in Joint Replacement Arthroplasty in England, including 3 years in London, working with high volume dedicated Hip Arthroplasty Specialists, doing Hip Revision, Resurfacing and Minimally Invasive Hip Surgery. He has carried out over 1400 Primary Hip Replacements, 650 Resurfacing and 450 Revisions.
Like his great grandfather and father, Dr. Prithvi Mohandas went to the Prestigious Madras Medical College. After completing his Medical degree he obtained his basic surgical training in the United Kingdom. After this he trained in general Orthopaedics for two years. For the last five years he has specialized in Hip Arthroplasty. He worked for two years exclusively on the tribology and design of hip implants. He spent three years dedicated exclusively to performing primary and revision hip Arthroplasty.
He has presented papers to the British Orthopaedic Association, the institute of mechanical engineers of London. The Royal National Orthopaedic Hospital, London and has collaborated with the Minimally Invasive lab at the Hospital for Special Surgery New York to create the "ENSIGN" hip.
He has also contributed to publications on the Blood Supply and loading or Resurfacing and the Migration of Femoral Implants with impact. The high point in his career was being closely associated with and personally trained by the Orthopaedic surgeon to the Queen Ms. Sarah Murihead Allwood a worldwide authority in hip surgery.
Dr. Prithvi Mohandas conducts specialized course.... S-ROM, Socket Science, S-ROM revision.

Dr. Barry D' Rosario
Director of Department of Total Knee Replacement and Computer Navigation – MIOT Hospitals
Dr. Barry D' Rosario, a well-experienced surgeon, has performed over 1200 Computer Navigated Total Knee Replacement surgeries. Recently, he was invited to become the Faculty of the German Association of Joint Replacement Surgeons.